Compliance as a Service
Do you sell into an Overseas market and need to meet GDPR, HIPPA, NIST type regulatory requirements?
If you have noticed that keeping your Cyberrisk insurance cover premium under control is becoming more and more difficult then you have seen the start of a steep trend of financial organisations, manufacturers and governments demanding that you prove you are compliant with one or more security frameworks as a part of permission to play. don't get turned away or left out.
---
Get the ball rolling with an initial gap assessment against your chosen framework, call +64 9 972 0367 or email cybersecurity@vertech.co.nz
---
Are you a Software Developer or Service Provider who is looking to scale and build trust with your best customers?
Scale & Accelerate your compliance
Grow your business & win those deals by adding frameworks to support your business in different industries and geographies. If you are dealing with Multinational Corporates they want to know that you are a safe pair of hands for their information. Enable your sales team to get in the ring with the big boys and don't let yourself get locked out from those mega deals.
With support for over 25 frameworks
As you grow beyond a SOC 2 audit and an ISO 27001 certification, you will be required to address the compliance needs of new markets and industries. We have built out of box support for any compliance that you can bring on be it GDPR, CMMC, NIST, HIPPA, CCPA, PCI DSS, Essential Eight (ACSC) etc
Automate as you grow
As you grow and your systems become more complex and inter-dependent, manually tracking and managing compliance across people, assets, clouds, and vendors becomes highly risky and cumbersome.
Whether you are on AWS, Azure or Google Cloud we can integrate and automate in with these cloud platforms to gather information directly to avoid doublehanding.
Seamless compliance operations
As your team grows and work is distributed across teams, we can help you keep track of ownership and assignments to simplify delegation and accountability. If you chunk the elephant down into bite sized chunks and keep track of who is doing what then your goal of reaching compliance will be massively accelerated.
---
Get a workable plan in place now. Start with an initial gap assessment against your chosen framework, call +64 9 972 0367 or email cybersecurity@vertech.co.nz
---
Are you a startup who wants to to get though your first SOC2 or ISO 27001 audit confidently?
Look we know that most kiwi businesses don't have the resources to dedicate a full time compliance officer or CISO. We offer a unique & highly effective SOC 2 and ISO 27001 compliance package for startups to get them through their first-ever SOC 2 or ISO 27001 compliance audits with 100% confidence.
Dedicated compliance expert
Getting started can be challenging, so we will assign a dedicated compliance implementation expert who will work with you to guide you through the process and we can provide pre-audit testing to give you the best chance of achieving Certification first time!
All inclusive software platform
From HR background checks to security training and other guidance we can automate and integrate your system for SOC 2 or ISO 27001
Templates for you to start quickly
You are busy building a company. You don't have time to reinvent the wheel, neither do we. So we can provide you the best audit-ready, expert-approved templates for you to get started in minutes. Or we can import yours and customise as needed!
Automated so you don't have to do the work
Typically startups tend to have a fast-moving and modern environment of tools and cloud enabled services which makes it simpler to achieve a high percentage of automation.
---
Get the ball rolling with an initial gap assessment against your chosen framework, call +64 9 972 0367 or email cybersecurity@vertech.co.nz
---
Have you already identified what frameworks you must meet but need a pathway to get there?
We can walk you through an initial baseline assessment to see where your organisation is against your chosen standard and provide you with a clear roadmap to attaining certification success.
Got ISO27001 but you want to cross credit to another Framework?
Reuse existing work to jumpstart new audits
With a comprehensive built-in cross framework mappings we allow you to reuse integrations, controls, evidence, & policies across frameworks such as  SOC2, ISO-27001, and HIPAA, cutting down start time by up to 80%. Preloaded mappings for SOC 2, ISO 27001, NIST, CIS, CSA, & new ones added regularly...if it's not there then we can probably get it put in! We support mapping custom controls internal to your company to one or more frameworks. With a flick of a button Controls, evidence, risks, policies, & documents are automatically mapped via crosswalks.
Have you been trying to self implement internally a security framework but struggling to make headway or even maintain the myriad of asset lists, policies, procedures, evidence, etc?
Maintaining all this manually is hugely time consuming. We can provide a single portal to manage the compliance across people, assets, cloud platforms and vendors with automated integrations to lighten the load of keeping the documentation alive and up to date.
---
If this is what you need then ask for Daniel on +64 9 972 0367 or email cybersecurity@vertech.co.nz
---
Information Security Management Systems
If you are an exporter to the EU or you deal with defense and medical industries in the USA? We have staff who are certified to both independently Audit and act as Lead Implementers of your organisation's effort to become ISO certified..
GDPR and Privacy regulatory Compliance
Do you need a GDPR compliance roadmap report (prioritised list of actions for GDPR compliance)?
Have you set a Privacy policy and cookies policy for your website?
Have you thought about getting a detailed review of your website and other on-line presences and including a review of links to privacy policy, notice of collection, consent to marketing, cookies being used etc.
Privacy Officer services – we can help give you access to a privacy officer (required for EU) and the provision of privacy assistance.  This can include privacy training, policy development, responding to client requests etc.
25+ supported compliance frameworks
ControlMap comes pre-loaded and is cross-mapped to over 25 global and regional compliance frameworks, including SOC 2, ISO 27001, FedRAMP, NIST CSF, GDPR, HIPAA, and more.
Comprehensive Cyber Security Services

Anti-virus, anti-malware, EDR, Ransomware and Advanced Threat Protection, Managed Firewalls with Intrusion Detection, file disk and email encryption, Mobile Device Management, Domain credential monitoring for password exposure, Azure Multi Factor Authentication (MFA), Data Loss Prevention, Vulnerability and Patch Management, Archiving and Backups, Offsite Rapid Disaster Recovery. IT Governance and policy Creation.

If you aren't ready to engage straight away then perhaps we can send you a copy of the book Daniel Watson, the cyber security expert & owner of Vertech IT Services wrote. Just fill out the form below and we'll get a copy to you.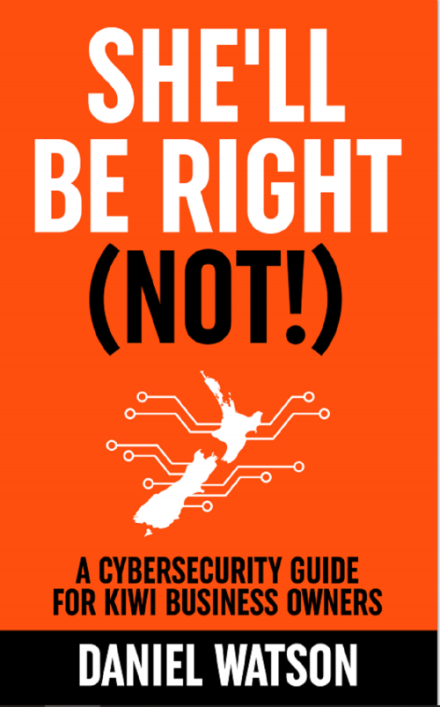 She'll Be Right (Not!):
A Cybersecurity Guide for Kiwi Business Owners
Got this far?

SHHH! Here's a Secret! If you fill out this form and Daniel catches up with you, he'll probably give your own signed copy for Free!