Cybersecurity Risk Assessments
Be proactive in your security protection against malware and hackers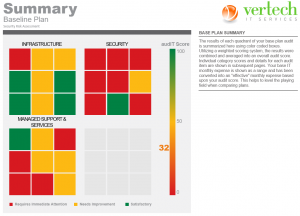 Just because your business has had a year without any cybersecurity breach doesn`t mean you will always be so fortunate. Hackers and malware are becoming ever more rampant and sophisticated, increasingly targeting the low-hanging fruit -- small and medium-sized businesses. In this field the ground shifts often and quickly, what was fine 3 years ago can be quite obsolete or even become an actual vulnerability liability today. Don't wait for an intrusion to happen before putting up safeguards.
---
When was the last time you had a Vulnerability Scan or a Penetration Test conducted on your environment?
---
Security Risk Assessments
We offer two types of audits:
The Free Quick "Hands Off" systems check - This is suitable for a smaller business with limited complexity where the owners are already aware there a some problems to be fixed. We send out two team members for an hour, one to interview the main technical point of contact or decision maker in the organisation and another to visually inspect the network, systems and passively obtain information through various means. A simple traffic light report is generated and Vertech's remediation/mitigation costs provided. Due to resource constraints we can only provide a small amount of these per quarter however to apply please fill the form below and we shall contact you to discuss.


---

The Paid "Thud Factor" Full Risk Assessment & Report - Costing upwards of $2500 depending on your company size and complexity we will conduct a formal assessment utilising the CIS/SANS 20 v7.2 Security Framework to examine your environment from within & without whilst looking at factors such as People, Processes and Protections. We interview the management as well as staff, run credentialed vulnerability scans internally and external scans against any public facing systems such websites & firewalls. The information is gathered into a final report where the risks are prioritised by priority and potential impact to the business with the mitigation strategies and estimated costs provided such that you can hand the plan to your inhouse or existing IT provider to resolve.
If this is what you need then ask for Daniel on 09 281 4034 or email sales@vertech.co.nz
Settling for the bare minimum in your cybersecurity strategy won't protect you effectively. It goes way beyond Antivirus & Spam Filtering and it is an interative process with a Security Risk Assessment setting a baseline for an annual review to make sure you are staying on top of your game.