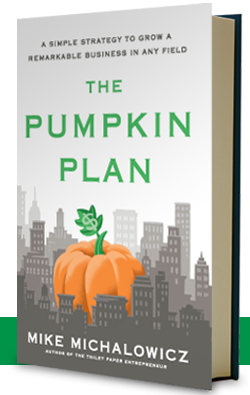 I've been thinking a lot on how I can achieve the goals I have set for myself and the business.It has become apparent that I can't get better results by being the same person that I have always been. If you want MORE, you have to BE more. By developing your personal capabilities, you display leadership and learn how you can grow the business. There are plenty of material in this vein and if you pick up anything by the authors below you can't go wrong. I've been reading and listening to several excellent Audio Books recently (either through Audible or YouTube) which I highly recommend to fellow business leaders!
The Pumpkin Plan by Mike Michalowicz – A simple but powerful analogy to grow your business with less pain. You don't need more customers, you need more of the right kind of customer. http://pumpkinplan.com/
Unshakeable by Tony Robbins – Deals with wealth creation in a step by step manner suitable for anyone. Wisdom distilled from the mouths of the world's financial titans in a form even a financial simpleton like myself can implement!
Secrets of Closing the Sale by Zig Ziglar – this is a classic, he sounds like an old time southern Baptist preacher but he's got the chops. At the end of the day we are all in a sales profession and it you don't ask for the sale then you are a professional visitor.
Don't have time to read? I signed up for YouTube Red so I can listen to them whilst running with the dog without ads. Motivational stuff is all very nice but without action it's pointless and what's more it tends to wear off over time as we get consumed by the minutiae of day to day life. Keep yourself exposed to a steady stream of inspiration, seek out people who have done what you want to do and ask them how they got there, model success!
Daniel